Conceptual model of an aquifer vulnerability assessment
Importance
Aquifers are among the most important sources of drinking water in the United States. In Florida, for example, an estimated 90% of drinking water is derived from aquifers. Identifying areas where aquifer systems are more vulnerable to contamination is a critical component of a comprehensive ground-water management program.
Projects
The projects listed below allow improved decisions to be made about aquifer vulnerability, including focused protection of sensitive areas such as springsheds and ground-water recharge areas. (Click the links to be directed to a project specific webpage.)


AGI professionals were also involved in the design and development of the following projects completed by the Florida Department of Environmental Protection:
Enable Specialized Ground-Water Protection
Aquifer vulnerability assessments provide maps that identify those areas which are more vulnerable to contamination and therefore may require specialized levels of planning.
Our Goal
The primary goal of aquifer vulnerability mapping is to provide a scientifically defensible water-resource management and protection tool that will facilitate planning activities to help in minimizing adverse impacts on ground-water quality.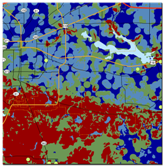 Vulnerability map of the Floridan Aquifer System in Leon County, Florida
Aquifer vulnerability assessments can be applied to:
Wellhead protection
Source-water protection
Land-use planning
Environmental protection
Sensitive land acquisition
Regional or local scales
Geographic Information Systems
The assessments are based entirely in a GIS and use statistical techniques. Models take advantage of the most recent data available and are easily updated when new data becomes available.
Much of the data required for a vulnerability assessment has already been developed and is typically available from a variety of sources including state government or maintained in our own extensive GIS library. AGI is also experienced in developing new datasets as needed for input into a vulnerability assessment.
Some factors affecting aquifer vulnerability include soil properties (permeability or drainage), aquifer confinement (overburden or confinement thickness), presence of sinkholes or collapse features, and water levels.
Aquifer Vulnerability Assessment Output
The model output is a map of vulnerability across the study area. These vulnerability maps basically exhibit the probability that an aquifer could become contaminated resulting from activities at land surface
Aquifer vulnerability maps are displayed in classes of relative vulnerability (one area is more vulnerable than another). The maps benefit local government, planners and developers in guiding growth into more appropriate areas. These maps enable more focused protection of sensitive areas (e.g., ground-water recharge areas) and improve site selection for expanding existing or establishing new well fields.