Introduction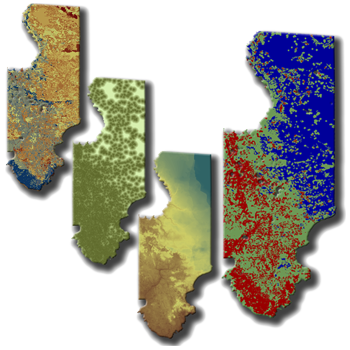 The primary purpose of the Columbia County Aquifer Vulnerability Assessment (CCAVA) project is to provide a science-based, water-resource management tool to help minimize adverse impacts on ground-water quality, including focused protection of sensitive areas like springsheds and ground-water recharge zones.

The Floridan aquifer system is the most important and prolific source of fresh water in Columbia County. According to the United States Geological Survey groundwater use from the Floridan aquifer system in Columbia County is estimated at 12.28 million gallons of water per day for public supply, agriculture, and other uses. All of Columbia County's over 65,000 residents rely to some degree on the Floridan aquifer system (FAS) for their fresh water needs. Columbia County, which lies mainly within the Northern Highland province, is underlain by thick and highly permeable carbonate rocks which comprise the Floridan aquifer system. These carbonate rocks consist of the Suwannee and Ocala limestone's. The extreme southern end of the county transitions into the Gulf Coastal Lowlands and corresponds with a significant elevation break. Sediments overlying this aquifer system vary from very thick in the northern part of the county to thin or absent and breached by sinkholes as you progress southward across the county. Karst features are prominent throughout the study area, however, they are more abundant as you move from northeast to southwest within the county reaching a peak as you approach the Santa Fe River. These features include sinkholes, swallets, and springs such as the Ichetucknee Springs Group, Columbia Spring, Santa Fe Spring and many more. Identifying areas of Columbia County where the Floridan aquifer system is more vulnerable to contamination from activities at land surface is a critical component of a comprehensive groundwater management program. Protection of the Floridan aquifer system is an important measure to take in helping ensure viable, fresh water is available from the Floridan aquifer system for continued future use in Columbia County. Aquifer vulnerability modeling allows for a pro-active approach to protection of aquifer systems, which can save significant time and increase the value of protection efforts.


NOTE: The CCAVA project final report and map are still considered as drafts at this time; please treat them as such. They should be used as a reference and for viewing purposes only at this time. AGI will update this webpage accordingly when the results are considered finalized. You may access some of the information and data associated with the project below.
Final presentation to the Ichetucknee Partnership, June 11, 2009
Project Report, Poster, and Data (June 2009)