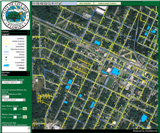 Implementation of a GIS-based infrastructure model can reduce costs, eliminate database duplication, enhance database standards & integrity, and allow more convenient access to facility information. CADD drawings from as-built plans, engineering designs and photographs can be included and linked to features to preserve valuable information. AGI is experienced in assisting utilities in the development of digital features of any infrastructure system including water distribution, sewage collection, storm-water conveyance, natural gas pipeline, and electricity.
A powerful tool…
GIS provides a powerful and useful tool for the mapping and modeling of infrastructure features. The ability to access geographic information of your infrastructure's individual features is essential to making decisions about customer billing, location of aging features, tracking maintenance of the system, and planning for expansion. Too often, utilities are forced to rely on paper maps or basic aerial photographs to locate structures. These maps are of limited accuracy, nearly impossible to update, and do not include an integrated database. A recent, accurate and easy-to-use GIS coverage representing the entire system is an invaluable tool that can allow you to quickly and easily access infrastructure data.

AGI has the personnel and experience to help managers of utility and infrastructure companies manage their assets. We are capable of transferring vital information from engineering drawings and "as-built" plans into the GIS. Information about each feature can be input into attribute tables as well as other media items such as; pictures, scanned images or even video. AGI is also capable of acquiring GPS locations for critical features like; meters, valves, hydrants, utility poles, etc. .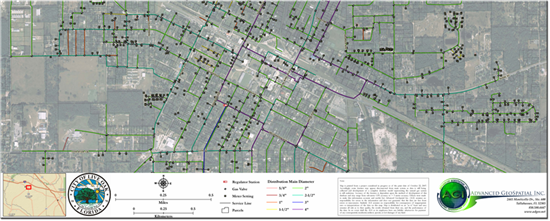 Services offered are; Consulting, Database Development, Data Acquisition & Processing, System Integration, Asset Management, Data Visualization and Staff Support