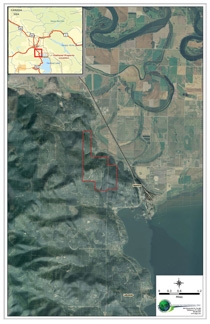 Terrain overlain with aerial imagery, Montana
AGI provides clients with full service GIS support to complete basic property research, essential due diligence, and extract or reveal trends in sales or property data not otherwise apparent. Use of Geographic Information Systems (GIS) is rapidly growing and developing momentum in the real estate industry. Accessing recent and accurate property data is critical in todayís market to keep a competitive edge and to effectively complete property analysis for your clients and your own needs.

AGI brings this powerful tool to you to boost your access to important parcel, sales, aerial photographic, zoning and many other types of data which will allow you to more quickly respond to client requests and analyze property data. We accomplish this for our clients in three ways: Custom GIS Service, Custom Map Service, and Interactive Map Service.


Custom Geographic Information Systems Service
Implementing GIS in real property analyses is an excellent way to maximize prospecting time and add value to your efforts. Properties of interest can be characterized and analyzed thoroughly using GIS prior to site visits, making decisions about purchase, or to move ahead at all. With GIS, time otherwise spent researching county property appraiser records, searching databases, and driving around to properties that donít fit necessary criteria can be reduced or eliminated.


Custom Maps
AGI provides on-demand, custom map development services to meet any mapping need. We maintain an extensive spatial database from which we can develop a wide variety of map types. Custom Maps are developed using the latest GIS software and then delivered electronically in the format of your choice. A custom map might include your site plus layers like parcels, roads, lakes and rivers, elevation, cities or counties. We design any size map and can also have them printed for you. View some of our maps from past projects here.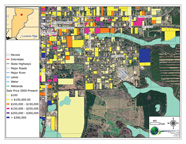 Jefferson County Interactive Map interface
Interactive Map Service
AGI offers GIS mapping services on a county-wide basis. We are currently offering our service for Leon, Jefferson, Gadsden, Wakulla, Madison, Jackson, Bay, and Walton counties in the Florida panhandle.

Our interactive map service provides you with a single interface meeting all your property data needs. These packages contain comprehensive locational and real property data enabling you to:
Complete property analysis using past sales or zoning
Measure distances to nearby points of interest or attractions
Complete preliminary risk assessment with flood zones & wetlands
Arrange, export, or print maps
Export maps for use in marketing
Research areas or neighborhoods
Maximize prospecting time from office
Topographic analysis
We will develop an interactive map for ANY county or study area for which we can obtain digital parcel data.